Here is a good counterpoint to the dismal news of late. The SigEps at Nebraska-Lincoln started a new Homecoming tradition
Students pack fighting hunger into homecoming week festivities : The Lincoln Journal Star Online
:
'via Blog this'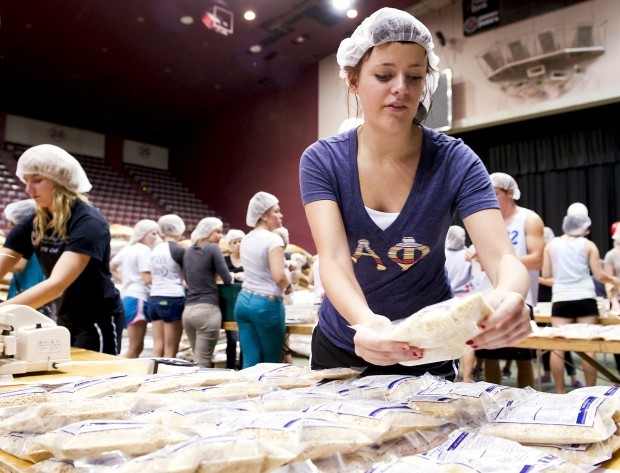 University of Nebraska-Lincoln freshman
Katie Pankonin stacks bags of food to be
sent overseas as part of the Huskers
Against Hunger event Tuesday, September
25, 2012, at Pershing Center in Lincoln.
Alpha Phi member Megan Freese called the event a bonding experience.
"It's fun to do with your house," said Freese, who planned to do two shifts between studying and attending homecoming festivities.
A few tables away, UNL freshman Travis Eakins of Sigma Phi Epsilon summed up his motivations for volunteering in a single sentence:
"It feels good to help people," he said.
The new homecoming week tradition began last year when Sig Ep members decided that the $4,000 reserved for building a float and to decorate their house for homecoming would be better spent providing food for hungry children in disaster areas. Fraternity members also volunteered with Lincoln Kids Against Hunger to package food.
"It was such an impactful event for our guys, we decided to expand it to a university wide event," said Max Rodenburg, Sig Ep president and co-chairman of the Huskers Against Hunger event.
Students representing all areas of campus teamed with the local satellite of Kids Against Hunger, a humanitarian food-aid organization that works with volunteers throughout the United States and Canada to package a dry, vitamin-fortified soy-rice casserole that is distributed to starving children and their families in more than 60 countries.