Local couple puts out welcome mat for cyclists
: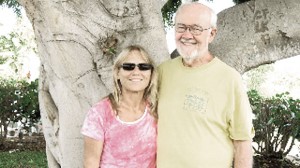 Patty Saunders and John Shea have
welcomed Journey of Hope cyclists into
their home for the past 12 years.
"Sunday morning, 70 cyclists are slated to leave San Francisco and Seattle on an annual coast-to-coast fundraising tour for the developmentally disabled.
Twenty-eight of them will make their first stop around 5 p.m. in Napa — to be greeted by Patty Saunders and John Shea, a couple who have welcomed the riders for the past 12 years.
Their effort is part of a life spent aiding and advocating for disabled children and adults — and giving them the attention often denied them.
Each summer, the nonprofit Push America organizes the Journey of Hope, featuring fraternity members cycling from the West Coast to Washington, D.C.
...
Journey of Hope members, who belong to chapters of the Pi Kappa Phi fraternity, sign sponsors to donate funds before the tour, which includes two routes from the Bay Area and a third starting in Seattle. Along the way, the riders make donations to local programs supporting developmentally disabled residents, including Options3 Inc., a supported-living center in Santa Rosa."
'via Blog this'