The pride inside | The Quinnipiac Chronicle
:
"Imagine being in a room with almost 100 other students. You're sweating profusely. You're shaking convulsively. You're breathing heavily. You're about to stand up and admit something that has haunted you your entire life, something that may instantly cast you out.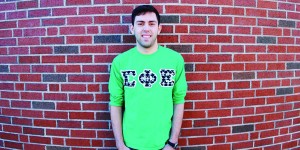 Madeline Hardy | The Quinnipiac Chronicle
Michael Castro's courage inspired other men
in his
The day had finally come. Michael Castro, a Quinnipiac senior, walked into his weekly Sigma Phi Epsilon chapter meeting with deep-seated confidence. But on the inside, Castro was anything but calm. Through sweat and bated breath, Castro stood up in front of his 90 brothers and revealed the secret he had buried deep down for years:
"I have something to say. I don't want any of you to think of me any differently. I'm still the same person. I cherish all of your friendships, and I don't wanna lose anyone through saying this, but I'm gay.""
'via Blog this'