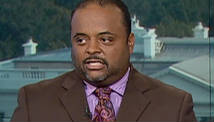 This article relates first to the hazing death of the Florida A&M Band member, but author
Roland S. Martin
makes good points about his college fraternity experience.
Ultimately, hazing is a coercive act that only continues while a person allows himself to submit to the coercion. That applies both to the hazer and the hazed person, because the pressure to continue an abuse can be nearly as strong as the pressure to submit.
Only students can truly end hazing - CNN.com:
"

News of the death has rocked the Florida A&M campus, angering its students and alumni, triggering multiple state investigations and leading Gov. Rick Scott to call for the suspension of school President James Ammons. That prompted FAMU students to march to the governor's mansion on Friday and camp out on his lawn, demanding he rescind the resignation call.





Champion's death isn't the first time we have seen individuals in a band or fraternity die. It is incredible that some folks have given their lives -- literally -- for just being a part of a student group.





State laws have been passed, organizations have been kicked off campuses and national fraternal and sorority groups have paid millions in settlements because of hazing, but we continue to see these stories.





"Why?" is a consistent question that is asked, and at the end of the day, it boils down to power and a desire to demand others kowtow to someone else's demands in order for them to be accepted.

."

'via Blog this'
The author also makes a point about academics when he says :
"In the history of our chapter, only one brother has failed to graduate, and we do nothing with him. Are you guys on the six- or seven-year plan, and can you match our graduate rate?"





"From my perspective, we were supposed to be in college to graduate, not to pledge.

"
Which got me to wondering: What is the graduation rate at SigEp chapters. I don't believe we track it now, but shouldn't we? It seems to me that is at least as important "Key Performance Indicator" metric as the GPA stats we are (rightfully) so proud of.